Designed to fit Ingenico's Moby/8500, Link/2500i with the iPhone 7/8 and other third-party devices
Seamless setup with automatic Bluetooth pairing, USB interface & automatic power-up
Magnetic connectors to easily snap on and snap off the card reader from the mobile device
Lanyard hook for easy device portability when not in use
Easy charging with 6-Bay charging station or USB-C connectors
Great fit for environments across multiple industries that require easy and compact payment acceptance solutions
Patented Ingenico design allows for the seamless integration of the Link/2500i or Moby/8500 with an iPhone 7/8.
Designed for mobility across multiple use cases
The iCON Case is designed to fit Ingenico's Moby/8500 and Link/2500i along with the iPhone 7 or 8 and other third-party devices. Its sleek and compact structure allows for mobility no matter where the customers are – in-aisle, curb side, in a restaurant, etc.
Bluetooth and USB pairing
The iCON Case provides seamless pairing to the mobile device via Bluetooth and USB that ensure constant connectivity even when the payment device is detached.
Magnetic connectors for easy use
Built-in magnetic connectors snap easily to connect and disconnect the mobile device from the card reader for a smooth transition between users. The case also provides a locking mechanism between the card reader and mobile device ensuring a strong connection.
Easy charging with multi-bay chargers
The iCON Case is built-in with contact PADs to enable flexible charging with 6-Bay charging station or through USB-C connectors for fast charging.
Product Information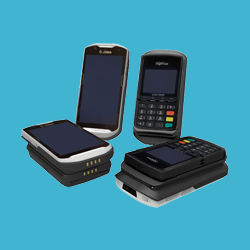 iCON Case - Datasheet
Seamless & flexible mobility for enhanced user experience