Moby/5500 Series
A versatile range of compact card readers to accept all transaction types

Accepts all card-based payments: EMV, magstripe and NFC/contactless
Secure card reader available in two versions: Chip & Sign or Chip & PIN
PIN on Mobile Ready
PCI-PTS 5.x certified to meet the latest security standards
White-label options for custom branding
Secure Payment Flexibility
The Moby/5500 accepts all card-based payments, including EMV Chip & Sign, EMV Chip & PIN, NFC/contactless and magstripe. With a built-in extended battery, this is capable of hundreds of EMV transactions on a single charge.
It is certified for PCI PTS 5.x SRED, EMV L1 and L2, EMV L1 contactless, Visa payWave, Mastercard Contactless, Amex Express Pay, Discover D-PAS and CUP qUICS.
PIN on Mobile
Integrated with back-end monitoring and a PIN CVM app, the Moby/5500P Secure Card Reader for PIN (SCRP) variant gives payment providers to meet PCI standards and allow PIN on Mobile.
Merchants benefit from a compact, lightweight device that enables PIN entry on their smartphone or tablet. Cardholders insert their card in SCRP and enter their PIN on the merchant's mobile device in a fully secure payment environment.
Versatile Design
The Moby/5500 offers a neat and scalable design. It also includes multiple contact pads and a USB-C connector to simplify integration with a large array of peripherals, smartphones, tablets and accessories. White-label options allow customized branding on the front of the device.
Easy Integration
The Moby/5500 is compatible with iOS, Android and Windows. It connects easily via Bluetooth with over 500 iOS, Android and Windows smartphones and tablets.
The Moby/5500 leverages a mature platform by combining Ingenico's mPOS EMV Software Development Kit (SDK) with a single generic PIN pad application.
Product Information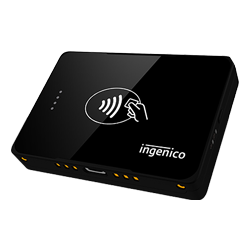 Moby/5500 / Datasheet
A versatile range of compact card readers to accept all transaction types
Moby/5500 / Images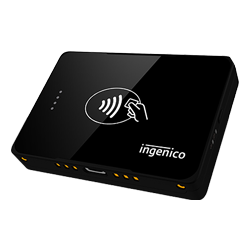 Moby/5500 / Images
Download high-resolution images for the Moby/5500.