Lane/7000 AM
Secure, sleek and smart for an enhanced payment experience
Contactless

Magstripe

Smartcard

Security

Touchscreen

Signature capture

Antimicrobial protection
Engage consumers with a large multimedia display with built-in Antimicrobial surface protection
Antimicrobial: The product contains an antimicrobial additive to inhibit the growth of microbes on its surface
Quick and easy payment options to improve checkouts
Integrate simply into any environment
Help reduce PCI-DSS audit scope with seamless semi-integrated configuration options
Increase payment security with the first and only PCI PTS 5.x certified device
Designed for speed and efficiency, the Lane/7000 AM creates new points of engagement that improves brand loyalty and enhances payment acceptance.
Future-proof payment security
The first PCI PTS 5.x certified solution, the Lane/7000 AM is natively designed to meet local regulations and ensure long-term compliance. It uses the latest cryptographic schemes with future-proofed encryption, while additional anti-theft systems, such as Kensington locks, offer further protection.
Support for all payment options
The Lane/7000 AM supports EMV chip & PIN, EMV chip & sign, and magstripe transactions, as well as the broadest range of contactless NFC, mobile wallet, and alternative payment methods. Each method is selectable and the chosen payment reader is illuminated for convenient use.
Consumer-friendly design enabling greater customer engagement
An intuitive, interactive device, the Lane/7000 AM transforms the point of sale into a point of engagement.
Lower total cost of ownership
Support for semi-integrated configurations simplifies compliance with the latest PCI DSS security standards while minimizing your compliance costs.
Industry-proven and reliable technology
Backed by 30 years of development experience, the Telium TETRA operating system is the perfect combination of payment expertise and web-based design creativity. It offers powerful security mechanisms to protect transaction data through use of elliptical curve technology.
Antimicrobial product protection
The terminal's plastic and other non-porous surfaces, including the stylus, are treated with an US EPA-registered antibacterial additive (silver ions) to inhibit the growth of bacteria. Testing conducted in accordance with the standards specified in JIS Z 2801 determined that following the inoculation of the terminal and stylus surfaces with Staphylococcus aureus and Escherichia coli bacteria and incubation at 35°C for 24 hours the number of living bacteria on the product surfaces was reduced by more than 99.9%.
Product Information
Lane/7000 AM - Datasheets
Secure, sleek and smart for an enhanced payment experience
White Paper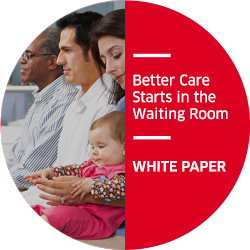 Better Care Starts in the Waiting Room / White Paper
Patients spend an average of 20 minutes in the waiting room, which is more than enough opportunity to pick up germs that can cause HAIs. What are you doing to protect your patients? Download this white paper to learn more.